Ultra Coach Owner's Manual (aka Ryerson Manual)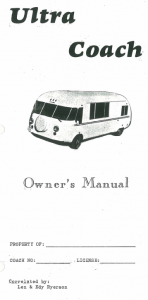 This manual is copyrighted , but is available by contacting Eric Kirven
The Ryerson is available in two forms, printed or on a searchable CD.
CD $17 postage paid to the contiguous U. S.
Printed Manual $60 plus shipping
Printed Manual and CD $70 plus shipping
Shipping is based on your choice of shipping options.
Send your address (use link above) to receive shipping costs.
Ultra Van System Diagrams