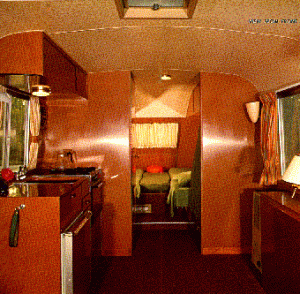 Length: 22 feet
Wheelbase: 152 inches
Height: 8 feet
Width: 8 feet
Price (New): $8,500 – $12,500
Dry Weight 3-4,000 Ibs
Price (2009) $5,000 – $15,000
Touring Weight:4,500 Ibs-5800 lbs

The Ultra Van is a unique motorhome. Powered by a Corvair engine and transaxle, it was designed by David Peterson (a professional aircraft designer) in the early sixties. These units were produced in limited quantities by Ultra, Inc. of Hutchinson, Kansas until June of 1970.
As a true monococque structure, the Ultra Van has no chassis. It is constructed like an airplane with aluminum ribs covered with riveted sheet aluminum on the top and sides. Compound curved areas (front and back corners) are fiberglass. All wheels are independently sprung with coil springs and tubular shock absorbers.
These units cruise easily at 60 mph and deliver 15 plus mpg. More than 100 of about 376 units produced are still on the road, many with between 100,000 and 500,000 miles of use.
The Corvair Society of America (CORSA) recognizes the Ultra Van as a true Corvair marque.