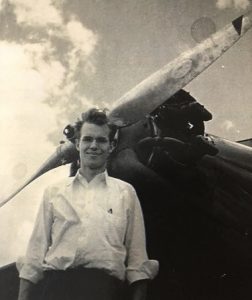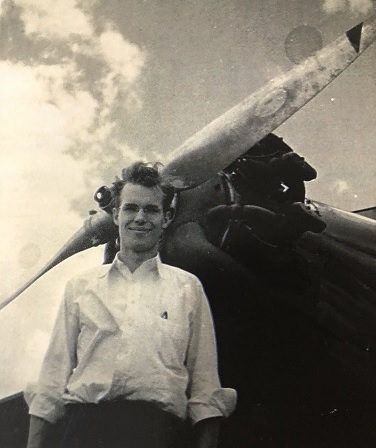 Transcribed from the article in the Whales on Wheels (WoW) newsletter, Summer, 1986 by W. Christy Barden, continuous club member and Ultra Van owner since 1973, UV #228 & UV #603. Past president of Group Ultra Van, 1983-1986 and newsletter editor of WOW from the first edition in 1983 through to mid-2000.
David Peterson was born in 1914 in Minnesota. His father worked for the mill, and was also a preacher. He, his mother, father and sister moved to Blackwell, Oklahoma in 1929. David helped his carpenter father build a trailer to tow behind their 1926 Chevrolet for a trip. His father suffered from arthritis and the 50o below zero winters wore a discomfort that prompted the move south to Oklahoma.
David learned the carpenter trade from his father. He relates how he was taught to sharpen the blade of a plane so sharp you could shave with it. He learned you could do may jobs with a good sharp plane.
His father died when David was 15 years old. He became the sole support for his mother and sister. Being in high school at the time, that was quite a task. He moonlighted projects at the high school woodshop to help pay the rent. In high school, he used his woodworking skills to build a primary glider. This was an inexpensive way to learn to fly. Using his own design, (sounds like David), based on standard of the day. He wanted to make it easy to assemble and disassemble. This way he could keep it at home and not have to pay tie-down rent. (That's how gliders do it today). The town council liked his glider (and him) so well, they let him keep it at the airport for free. David taught himself to fly in his glider. While doing this story, David showed me a small slip of paper with all the original materials, 1930 costs, totaling $67.00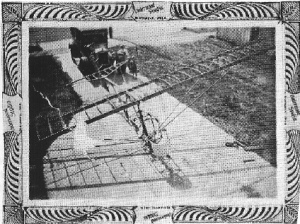 THE GLIDER DAVID BUILT IN 1930. NOTE THE 1926 CHEVROLET IN BACKGROUND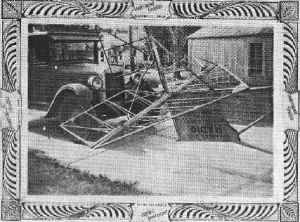 David was a very industrious young man, he did many things well. He was known as the boy who did everything. This has done him well most of his life. Even today, his yard is filled with boats, ULTRA Vans, cars, hang gliders, Cessna 310 parts, etc. The man never quits and today he's 72.
This young kid, using the high school workshop, became a competition of a vendor in town. The vendor complained and because of this he could no longer use the high school woodshop. A merchant who was impressed with Davids industriousness, lent him money to buy a new machine. This gave David the opportunity to open his own woodworking shop, "Dave's Woodwork Shop" just off main street in Blackwell.
David graduated from high school in 1932. In 1933 he and a friend went to the Worlds Fair in Chicago. Being resourceful, they made the entire trip in the 1926 Chevrolet for $25.00 apiece. Gas, food, lodging, gate fees and rebuilding a battery included. This was Davids first big trip away from home on his own.
Being familiar with flying and airplanes, David started doing repairs on airplanes. Usually when a wood spar needed repair, it would have to be removed from the aircraft, sent to the factory and then re-installed. David could make spar repairs on the aircraft. This saved the owners time and money.

THE CESSNA J67 HE GOT HIS PILOT LICENSE IN 1937
He kept the shop during the early 30's when the depression was at it's worst. During this time, David was dating his future wife, Lucille, and they were married in 1935.
In early 1936, David and Lucille moved to Wichita, Kansas. Lucille was originally from this area so it was like coming home for here. Dave got a job at the Stearman Airplane Company. He worked in the experimental department using his woodworking talents.

THE SPARTAN EXECUTIVE AIRCRAFT DAVID WORKED ON IN 1936
During this time, David got his pilot license #38268. He used a 1930 J67 Cessna. Only a few of these aircraft were built and were outdated by 1937. David got this Cessna and got a good deal on it. With his commercial pilot license he started giving rides for hire out at the Wichita airport. He was moonlighting as he was still working at Stearman.
In 1938, he acquired a stagger-wing Beechcraft. This happened because a friend introduced him to Walter Beech. It seems that a customer did not take delivery of this aircraft (this was the 35th one produced). Beech asked David what made him think he could fly a stagger-wing, to which David replied, "What makes you think I can't". With not much money down and a good payment schedule, David went into the charter business full time. It took a lot of gumption to get into a shaky aviation business at this time. Lucille had her doubts, David made it by working long hours and using lots of energy. Lucille said the children (Patty born in 1936 and David in 1938), learned to walk by holding onto the fence at the airport.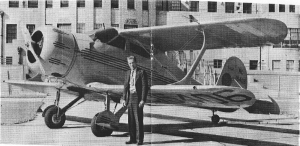 PETERSON STANDING PROUDLY IN FRONT OF THE STAGGERWING BEECHCRAFT AT THE WICHITA AIRPORT IN 1938
"David Peterson Charter Service" was started in June 1938. He did a lot of flying during these years. Walter Beech was very good to him, sending lots of business his way. Later David acquired a Cessna Air Master to his fleet. In 1939 he got his instrument rating in a Culver Cadet aircraft. Not too many pilots had their instrument rating in 1939, usually only airline pilots.
When WW 2 came, the government took his aircraft for the war effort. David went to work for Boeing Aircraft in Wichita. There he was given full charge of final assembly of the B-29 Superfortress. He was with Boeing until 1944.
Then the story picks up with him getting a job a the first pilot to fly for Sinclair Oil Company. (The forerunner of Atlantic Richfield Oil Co.) He was flying twin Beech D-18 aircraft.
I quote from the book "Power to Fly", by Devon Francis, published by the Richfield Co. in 1986.
"Finding a qualified pilot during wartime was no easy task. But Connelley (Sinclair President), remembered flying with an expert Wichita charter pilot who was available. His name was Dave Peterson. Peterson had an unusual history. When the government commandeered his taxi-service planes at the beginning of the war, he went to work for Boeing's Wichita division. There, he oversaw the production of the B-29 Superfortress.
The independent Peterson insisted on test-flying planes as they came off the production line. He even took three months to fly B-17 Flying fortresses to get four-engine experience. But when the time came for test flights, he tangled with new personnel who knew little of the plane's construction.
Although he spent two years helping construct the plane, it seemed nobody would listen to him. Peterson left the job and went to work for Beech as a troubleshooter. There, he improved the company's propeller design, incorporating a feathering feature..
When Connelley called Peterson, all he asked about was his drinking habits. Connelley has a pathological fear of pilots who mixed drinking and flying. When Peterson confessed he was a teetotaler, Connelley hired him on the spot."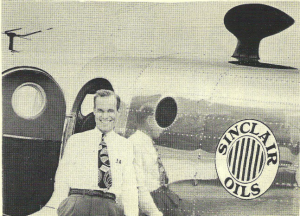 A MUCH RELAXED DAVID PETERSON LEANING AGAINST THE BEECH D-18 HE SPENT MANY HOURS FLYING. CIRCA 1940
After the war, while still flying for the Sinclair Oil Co., David started another Air Charter Service in Tulsa. Rent-A-Plane (sounds like Hertz?). He had people manage the company for him. At one time he had 10 Beechcraft Bonanzas (a single engine 4 place aircraft) on the line. This business was doing quite well, but he was spending so much time there that in 1955 Sinclair asked him to one or the other. He sold the business. It was the experience he has with the Beechcraft Bonanzas that gave him the idea for the SuperV. This was a Bonanza airplane built with two engines.
He went to Beech craft with his idea and they said it couldn't be done. That was music to Peterson's ears. So in 1956, he took a leave of absence from Sinclair Oil Co., to start work on the SuperV project. He upped the gross weight 600 pounds. By reworking the engines he achieved an engine nacelle that was only 14 inches thick. This meant less drag and more "GO" for the aircraft. After Beeachcraft saw what David had done, they went and developed the Beech Baron along the same lines. So if it hadn't been for David, there might never have been a twin Beech Baron. This entire project got him into working (hands on) with aluminum. Learning how stresses and structures worked, (and didn't work). He finally got the project certified by the C.A.A. (today F.A.A.). He did a few conversions and sold them to buyers. It was this project that brought him and his family to the Oakland Airport in California.
In 1957, he formally left Sinclair after serving as their chief pilot.
While he was doing the SuperV project, he got the idea for the ULTRA Van. Pulling his Spartan trailer into Mexico in 1959, the thought "wouldn't it be great to put the engine in the trailer and leave the car at home?" Had the Oldsmobile Toronado been around in 1960, he would have done just that with the front wheel drive engine. (But it wasn't) He was fascinated with the Corvair powerplant so he built a complete new structure around this concept. Using his unique ability to work things out on his own. The project was completed in 1961. For a more complete story on this, see the CORSA Communique of April 1980 (Vol. 2, Num. 8)
Background
All engineering and production rights of the "Super-V" Bonanza conversion project, initiated a few years ago by David Peterson of Tulsa, Oklahoma, had been taken over by Oakland Airmotive at Oakland, California. Peterson has joined Oakland Airmotive with the project.
An improved version of the Super-V prototype is now undergoing the last stages of C.A.A. certification, and an expected approved conversion will be available to Bonanza owner in early 1959.

David's long experience of working with his hands has done him well. He still feels that anyone can do what he can if they are willing to work.           He says his secret is energy. Just keep using it and keep going. I might add he has a lot of ability to go along with it. He doesn't get caught in conventional thinking and approaches. This has gotten him into trouble at times. It also has given him insight to do such project as Super V and ULTRA Van. He has a lot of personal integrity and stays with it. Good old fashioned values.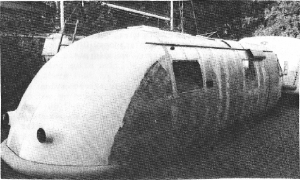 A BACK VIEW OF THE 700 SERIES ULTRA VAN IN DAVID'S BACKYARD. NOTE 601 IN  FRONT OF IT WITH A SAIL BOAT BEHIND IT
Today David can be found working on the new Chevette side mounted motorhome #700, (see Whales on Wheels, vo 3, No. 3, summer 1984), his twin Cessna 310, or busy with his computer. Just two years ago at the age of 69, he went out and got his aircraft and power plant license from F.A.A. At retirement age, he was doing what 20 year old were doing. And that's David Peterson!
If you would like to meet this man, come to the Watsonville Rally at the Santa Cruz Fair Grounds July 24th-27th, or the National Rally in Fredericksburg, Texas from October 5th-12th. (Ladybird Johnson Municipal Park).
David should be driving the new 700 series Chevette powered unit to Texas. Wouldn't that be fun to see?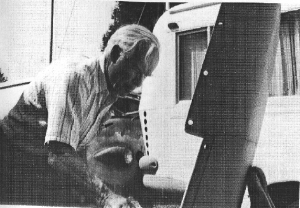 DAVID PAINTING THE NACELLES OF HIS CESSNA 310 IN HIS BACKYARD. NOTE ULTRA VANS BEHIND HIM.