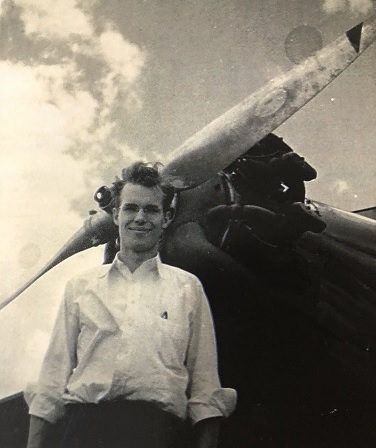 David G. Peterson
The man behind the Ultra Van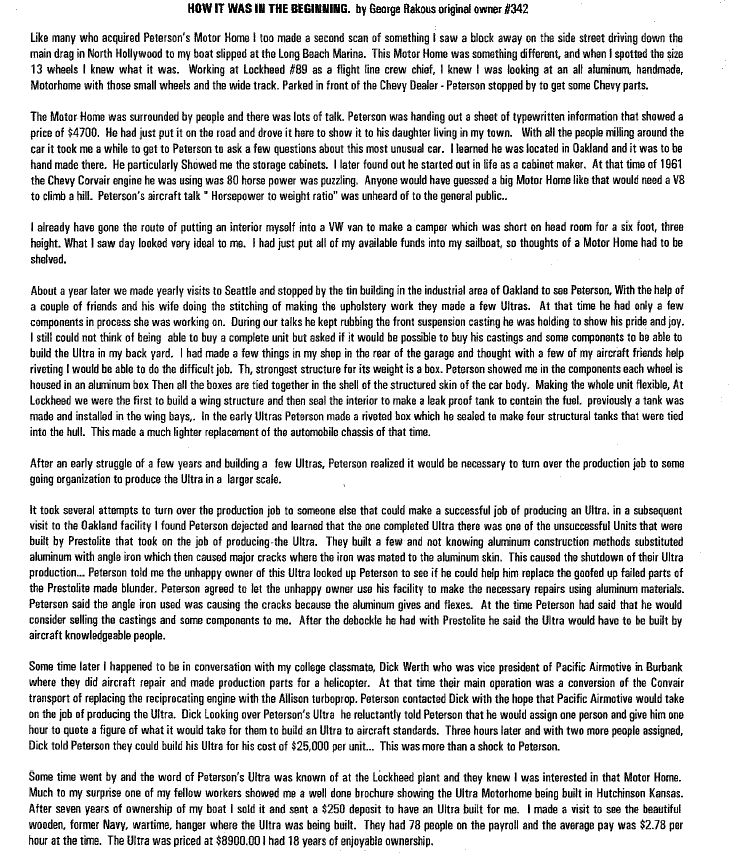 How it was in the beginning
Another look at the beginnings of the Ultra Van. Taken from the UltraSounder newsletter 2001-3.
600 Series - The Super Ultra Coach
700 Series (the unfinished Ultra Van)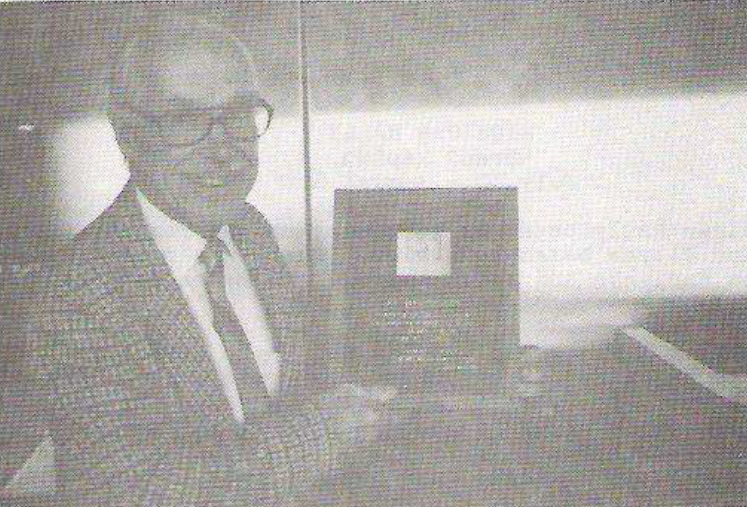 20 Year Appreciation Award
This award was prepared to be presented to Dave Peterson at the 20th anniversary National Ultra Van Rally., which Dave was unable to attend. This is his response to being presented with the plaque, "What a surprise to receive such a beautiful plaque. It will continue to remind me that a bug bunch of people really do appreciate my efforts, a satisfaction to be so honored. Christy Barden made quite a presentation, lots of pictures, even with me in the left seat of a Boeing 727 that he was flying for Continental Airlines. Thanks to all club members. We are so sorry that we were unable to make it to the greatest rally of them all. We need to get our lives less complicated so we have time for the really important things."

Interesting Dave Peterson Ultra Van background
Extracted from the UltraSounder newsletter 2000-2 written by Jim Craig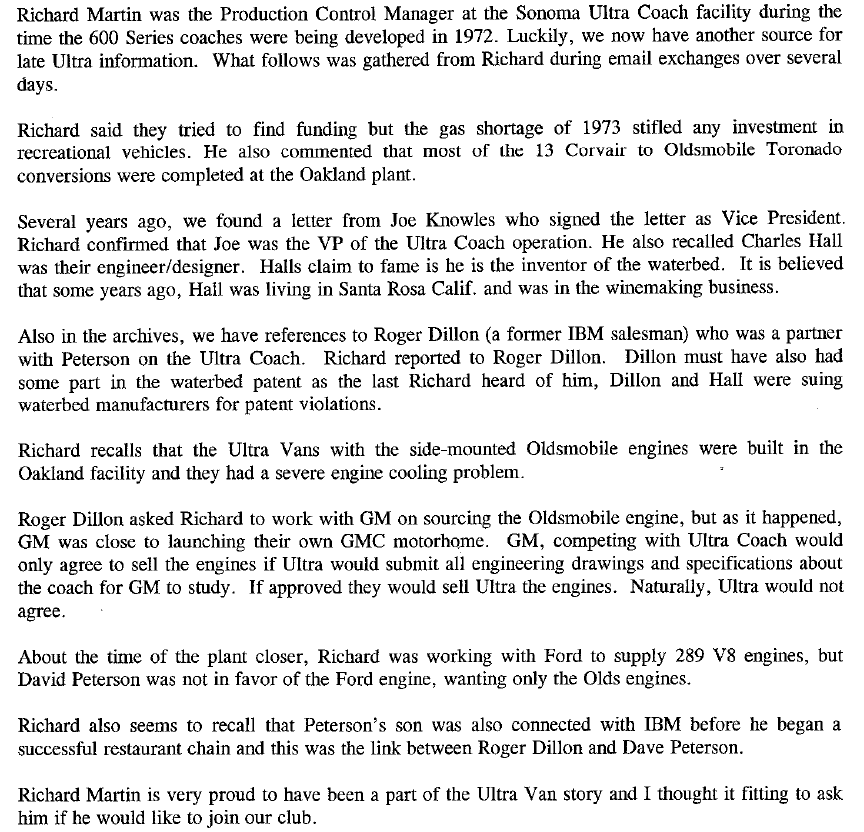 Information about 1970's Ultra Coach Development
Extracted from the UltraSounder newsletter 2001-1, provided by the 2001 Historian, Norm Helmkay, from email correspondence to Ken Widman, 2001 Webmaster.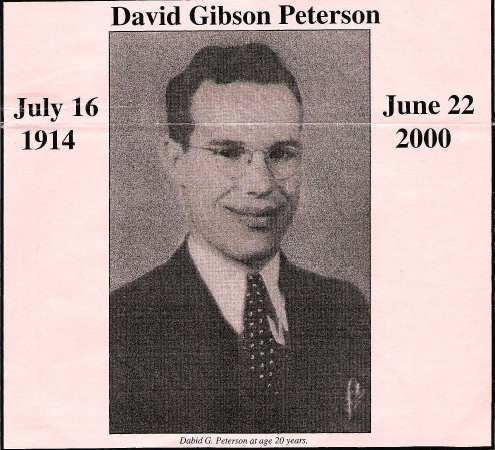 Ultra Van Creator passes quietly in San Rafel, California
David had a stroke on May 19, 2000 and never recovered. He passed away quietly on June 22, 2000.
We all have had him touch our lives in one way or another. We will always remember him as an enthusiastic, hard driving, ingenues person, who made it through the hardest of times. He always had a way to get something done, make it work, of figure things out. We all respected his notion that is still way ahead of its time.
Our condolences to his family, and the woman that made a lot of things happen in his life, Lucille. She did so many behind the scenes activities, that we will never know just how influential she was. His wife, Lucille, son David L. Peterson and daughter Patsy Hussman, 5 grand children and 5 great-grand children survives him.
Lucille said the last year they had together was enjoyable, not only to her, but to David as well. Because he had accepted his condition he was able to enjoy their new life  at their new home in San Rafel, California. Lucille misses him greatly, they had just celebrated the 65 wedding anniversary the week before. She was happy they did have this last year together, taking walks, having dinners and just being together with out a lot of business stuff to get in the way.
Some how the world has change d a bit without the great David Peterson smile around.
Card will be welcome: Mrs. Lucille Peterson, 713 Deer Valley Rd. San Rafel, CA 94903. No services will be held honoring David's request. 
David Peterson Eulogy by W. Christy Barden - WOW Summer 2000
This newsletter (WOW 2000-2) is dedicated to the memory of David Gibson Peterson, July 16, 1914 to June 22, 2000, 6 weeks short of his 85th birthday. He was close to us and has affect all of our lives. If you own or have owned an Ultra Van, there is no way out of it.
Because he has effected our lives so, we honor the position he holds in our community. He was our chief, our head guru, and the guy who knew what it was all about. We lived in, loved and drove his creation, the Ultra Van. The world has changed a bit now that he is not here, but has left a lasting legacy, the Ultra Van. These vehicles are now between 30 and 38 years old. Only about 365 units were ever built between 1961 and 1970. The Winnebago built over 250,000 motorhomes, which was more than any other manufacturer. The difference between the two is noticeable, uniqueness! The Ultra Van is still way ahead of its time, a body that weighs just over 2,000 pounds, without interior installed. A shape that the airflows around, a full body pan (the early ones) that reduces the coefficient of drag. Recycling of gray water through the macerating toilet uses a garden hose to empty the holding tank. Uses the front compartment efficiently as a driving area, eating area and sleeping area. The lowest profile of any Recreational Vehicle built. AND the best mileage you can get with a vehicle of this size. An interior the size of a space ship, with the biggest KING size bed in the industry. This is the legacy of David G. Peterson. He built a vehicle, which will last well into this century. When the internal combustion engine is no longer available, we will use electricity to run motors at the wheels, using a hydrogen engine, with solar panels the large top of the vehicle. He created a cult vehicle. Ordinary people will not be driving this maching in 50 years, only people who have the appreciation and ability to operate this machine will have them. Our job is to take care of them, so in the year 2050 a young man with a dream and lots of energy will have one to restore and modify and use and he travels the country to find out where he fits in this society. So that is our challenge, to keep as many of them running and alive so that others will be able to remember David Peterson with a fond smile of thanks.