CONTACT INFO:
Seller: Tony Shipman
Location: Ontario, Canada
*Delivery Available*
Phone : 613-925-1088 ET
1970 Ultra Van #520 (Ontario, Canada) - $19,995 USD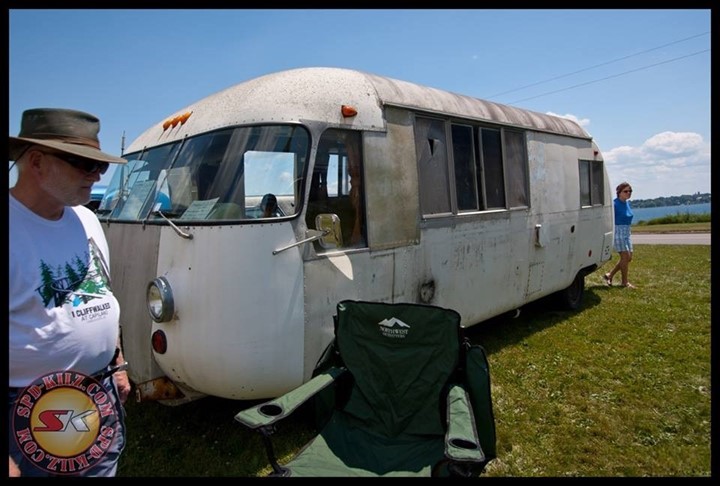 1970 Ultra Van #520 – $19,995 USD  (Ontario Canada)
Ultra Van #520 has the cherry interior with a bookshelf under the large window and a very cool interior lamp on the closet wall. Windshields and seal are NEW… It also has an Olds Toronado 455 in the back, that a previous owner installed.  
I purchased it not running in 2013 and towed it home.
I did a lot of work on it, to get it safety tested and road worthy in less than a year, after becoming care takers of it. (see repairs and parts list below)
Comes with Clear Title, a New Ryerson Manual, and a 1 year UVMCC Club Membership.
Running – Sold as is. $19,995 (USD)
As with any 50-year-old vehicle, I recommend that you get a licensed shop to look it over and inspect everything before putting this vehicle on the road and you start using it.
* Delivery is available, in the contiguous states and parts of Canada, price TBD *
Can also provide additional mechanical work, price TBD.

Repairs and Parts List:
New Windshields and Seal (2014)
New Water Pump and Hoses (2014)
New Thermostat and Gasket (2014)
New Fuel Pump and Hoses (2014)
New Front and Rear Brakes (2014)
2 New Rear Disc Rotors (2014)
2 New Rear Disc Calipers (2014)
2 New Master Cylinders (2014) (not a mistake, it has 2 singles – see recommend list below.)
2 New Front Wheel Cylinders (2014)
New Bake Lines (2014)
4 New Brake Hoses (2014)
2 New Lower Rear Ball Joints (2014)
Might also have New Upper Ball Joints.  (Will have to confirm) 
Rebuilt the carb (2014)
2 New Outer CV Boot Kits. Cleaned CV Joints, New Grease and Installed Boots. (2014)
New Fuel Filter (2019)
Will Be Done – Before New Owner(s) Take Possession:  
New Cooling System (To Be Done)
New Larger Radiator (To Be Installed)
New Cooling Fan System (To Be Installed)
New High Amp Alternator (To Be Installed)
New Air Filter System. Possibly with Washable Filter. (To Be Installed)
Tune-up (To Be Done)
New HEI Distributor (To be Installed)
Transmission Service (To Be Done)
New Differential Cover Gasket and Fluid (To be Installed) 
I Recommend:
Installing a New, Hydroboost or Power, dual master cylinder (Price TBD if I'm to do it.)
4 New rims & tires of your choice. (If you buy them, I'll put them on – No Charge.)
Maybe even a full restoration. It all depends on how nice one wants it to be.
This page last updated March 24, 2021