CONTACT INFO:
Seller: Kathy Hirsch
Location: Chalmette, Louisiana
Phone : 504-717-6247
Email: bernadotte217@bellsouth.net
1968 Ultra Van #379 (Chalmette, Louisiana) $7000 negotiable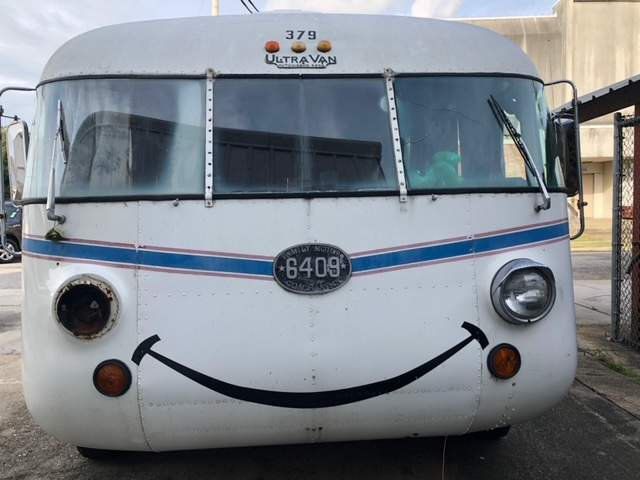 1968 Corvair Ultra Van #379 – $7000 negotiable  (Chalmette, Louisiana)
Engine/ Mileage:  it still has the Corvair engine.  I have bought 2 new carburetors but have not put them in. We bought it in October 2013 from Ashland, Kentucky.  Odometer was then 16,388.  We drove it from there to New Orleans, 864 miles. Other than that we might have put another 250 miles on it.  So it has sat idle for about 7 – 8 years.  We did buy new batteries.
Problems:  We encountered many problems when transporting – just from the prior owner letting it sit for years.  We had to change hoses and belts, the gas tank dash gauge does not work. The electrical on the dash should be redone. Headlights went out on a drive and we had to use LED lights taped on. The bathroom does not work,  it was not working when we bought it. Toilet is there, it all just needs to be hooked up.  It does have an air conditioner on roof, which worked.  There has been a crack in on a third of the windshield on the drivers side – but I have an extra one to be put in.  It is shown in the back sleeping area picture laying on the cushions.
Modifications:  the inside is still original.  The shag carpet has been removed and was not replaced it.  The two original driver and passenger seats were also removed. Large rearview mirrors were added on both sides.  
Body:  This coach has the smile on the front of it.  It is still the original color –  white with the blue stripe.
Problem – I had to move it from my house driveway to a warehouse area about 20 minutes away.  It is stored outside in parking area in a commercial block.  I just found out, since I am not there everyday, that something hit the back of the coach.  The rear door is now dented and the vent by the rear side curve is broken.  I do not know who or what hit it and I cannot drive it anywhere to have it fixed. (The club has replacement fiberglass rear sections in the website shop)
It had new tires, but they have been sitting for a long time.  I think one has a slow leak.
This page last updated April 5, 2023